NEW FEATURES
Summary: In this release we dded a new segment asset type to Live e-Editions. The cutout asset allows you to segment portions of the page that traditionally would not be segmented like weather bugs, advertisements, etc. The new segment type is mapped to a high-resolution version of the page. When users click on the segment, the image will slide in from the bottom of their screen. Users can then zoom in on the image.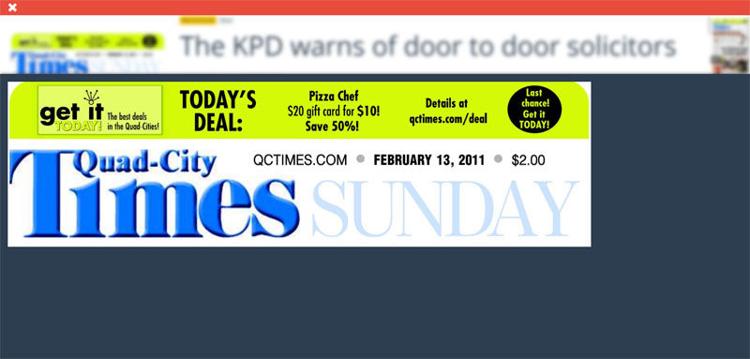 CHANGES
Change: Classifieds: Real Estate Tabbed Search block will now have a "Keyword" field listed in all tabs. User's will also to be able to control in the block admin which "Property Type" and "New and Recent Listings" items they wish to appear on the front-end.
Change: The Classifieds: Vehicles Drive Search block will now have a "Dealerships: drop-down on the bottom of the form. All of the dealerships will appear in alphabetical order, and the "All Dealerships" will be selected by default.
Issue: Users were no longer able to claim a business at the power or enhanced level without receiving a syntax error.
Change: Users are now able to claim power and enhanced businesses on the front-end without receiving any errors.
Issue: When listing an image as "Do not publish" in editorial> assets, the unpublished image was breaking article assets.
Change: Unpublished image assets are no longer breaking articles.
Issue: Maps were previously not appearing at all in Classifieds, and "mostly" complete location data was not appearing.
Change: Users are now able to have "mostly" complete location data appear on maps (address, city, state or zip). Maps will now appear on Classifieds with the pinned assets.
BUG FIXES
Issue/Change: Fixed an <i> tag on the Touch 5 Mobile Classifieds search result page that was being commented out.