CHANGES
Summary: The List Edit popup will now feature an 'Anonymous' checkbox and an 'Internal ID' display field.
Change: The Anonymous checkbox is for future use and checking this box will have no affect on existing mailinglist templates or functionality. The Internal ID will assist in list identification when importing contacts within the Constant Contact administrator.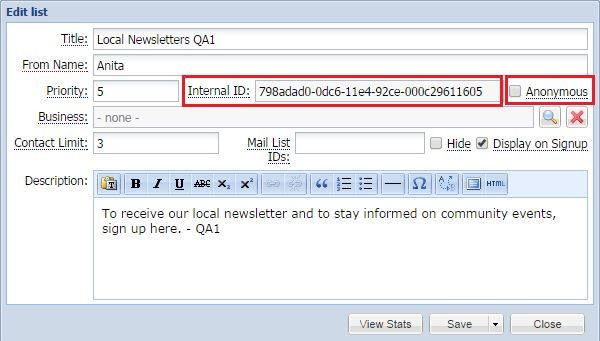 BUG FIXES
Issue: The Edit Campaign popup will no longer allow free typing of time values in the Schedule time dropdown.
Change: Campaign schedule times are required to be on the half-hour, with times ending in :00 or :30. Prior to this change, the schedule time dropdown box allowed direct typing of values for hour, minute & AM/PM, which would cause the campaign to not be successfully scheduled. This will no longer be permitted. Only :00 and :30 minute schedule times found in the dropdown box will be valid. Any previously existing campaigns that had been manually updated to a schedule time that inot on the half-hour will remain unchanged, however they will continue to be unsuccessful in scheduling until updated to a valid schedule time. The Edit Campaign popup will not allow a Save without first correcting the schedule time by selecting one of the provided :00 or :30 minute schedule times found in the dropdown box.