Since its inception more than 25 years ago in the back room of a Montana weekly, TownNews.com has built a strong reputation in the newspaper industry. It's less well-known that the company has made inroads in broadcast with a suite of digital publishing solutions that allows television and radio companies to create compelling multimedia sites with minimal effort.
Calkins Media-owned broadcast stations, WAAY TV (Huntsville, AL) and WWSB, ABC 7 (Sarasota, FL), launched with TownNews.com's BLOX CMS in 2012.
"We chose TownNews.com because it is more of a partnership and less of a vendor/client relationship. We aren't just writing a check to somebody," said Susan Bell, digital media director for broadcast at Calkins Media.
BLOX CMS isn't the first content management system Calkins Media has tried, but according to Patrick Ary, web content producer at WAAY TV, it's a cut above the other systems he has used.
"The system we used before BLOX CMS wasn't web friendly—it was difficult to find articles and we couldn't preview them. It was very basic, with not a lot of features or customization options," said Ary. "With the TownNews.com system you're able to customize a story to fit what you are trying to do."
Joe Bardi, digital media editor at WWSB, ABC 7, agrees.
"BLOX CMS is streamlined. The system I used at my prior place of employment was clunky and their updates were often incomplete—the whole process of getting content to the site was bogged down. With BLOX CMS, I am able to post more content on an average day," said Bardi.
Both Bardi and Ary work with BLOX CMS on a daily basis. Bardi posts editorial and video content to WWSB, ABC 7 and is responsible for their social media sites. Ary manages social media for WAAY TV while researching, writing and posting editorial content to the site. Both say they appreciate the system's flexibility.
"It is easy to get content where I want it to go. I can go into the admin and set content in five minutes," explained Bardi.
Ary also sees the multimedia capabilities and wide variety of storytelling options as a benefit of the system.
"We can add video pretty much wherever we want; we can add pictures and tweets, we can link a lot of social features into the site and into individual articles, and we can give stories and images unique looks through the variety of presentation modes BLOX CMS offers—all that stuff is really nice to have," he said. "Sometimes, we have a story we have given special attention to, so we will switch to the long-form story presentation mode just to give it a little bit of a different look."
For broadcasters, web video is a vital. In BLOX CMS, videos can be published as standalone assets, appended to articles and used in blocks and widgets throughout a site.
According to Bardi, improved video performance will heighten the appeal of BLOX CMS to the broadcast market.
"Sometimes the process of posting a video can take a long time, especially when reporting from my mobile device," he said.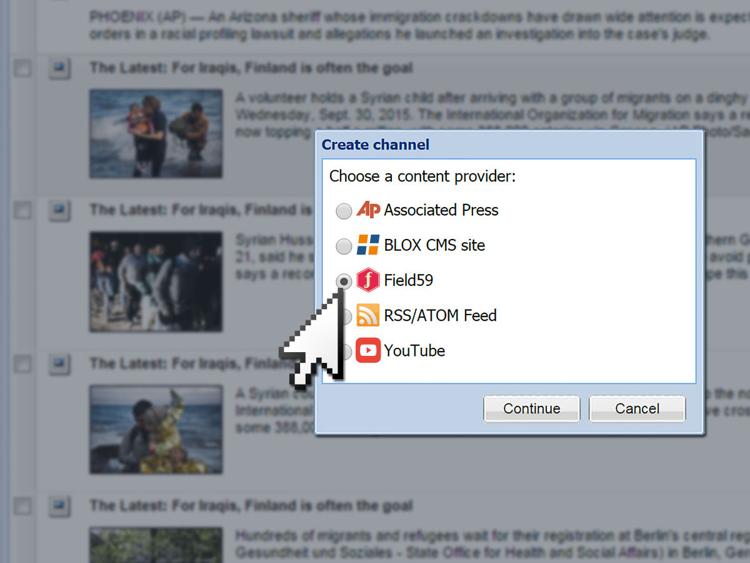 [Editor's note: In addition to its built-in video capabilities, BLOX CMS currently integrates with YouTube, Syndicaster and Field59. TownNews.com is also developing a framework that will allow easy creation of plugins for additional external video sources.]
"We have a third-party vendor that we use for our video platform, but we have not had any issues with the integration between that vendor and TownNews.com," added Bell.
Because both sites belong to the Calkins Media network, they can also share articles, images and videos using the content sharing tools built into BLOX CMS.
"The syndication tool is a nice feature. With proper organization between our properties, it can be very beneficial to pull from the other properties' systems," said Bell.
"The syndication tool has been very helpful when we need to borrow something, or if we are sharing our content. It is a lot easier to just click a story and tell it where to go and have it show up. It's better than having to go to a website to copy and paste text, save pictures and then reformat it all on a new article," added Brian White, digital developer at WAAY TV.
According to both Bardi and Ary, the switch to TownNews.com's BLOX CMS has paid off with gains in efficiency and ease-of-use.
"BLOX CMS works as it is supposed to. The system is simple and not a lot of technical skills are needed. It is a very stable system that is pretty self-explanatory and works as advertised," said Bardi. "My experience with TownNews.com has been good, they have been responsive to problems. With their system, I am required to do less to get more content on the web."
"I've used multiple content management systems, and I think BLOX CMS has the best features," said Ary. "We're able to do a lot more with our time, and we are getting a lot more out of that time."
Paige Ruba (pruba@townnews.com) is a marketing specialist at TownNews.com.