Software Releases
Today, we're launching a new status reporting page designed to give you an up-to-the-minute view of what's happening with TownNews.com's network, software and systems.
In most cases, you'll simply see a green "All Services Operational" message. In the unlikely event of a service disruption, the status page will tell you what's going on, what steps we're taking to remedy the situation, and how long we expect the issue to last. This is also the place to go for scheduled maintenance announcements.
Visiting the status page isn't the only way to stay in the loop. You can receive updates via email, RSS, webhook or iCalendar. We've also added a widget to the BLOX CMS dashboard and our support page that gives a brief status summary—simply click on it for full details.
Important: If you're already on our "Software release notes and service advisories" email list, you still need to subscribe to our new status page. Though we'll continue to send software release notes to this mailing list, service advisories and maintenance announcements will be distributed exclusively via the TownNews.com status reporting system.
In September, 2015, TownNews.com added AAM (Alliance for Audited Media) tracking support to BLOX Subscription Pro. This feature provides tracking of subscriber access to restricted content on BLOX CMS websites, including BLOX Live e-Editions.
AAM tracking was previously a feature of the BLOX Live e-Editions product, but this feature is being deprecated in favor of the more robust implementation in BLOX Subscription Pro. (Click here for BLOX Subscription Pro AAM tracking documentation.)
On February 28th, 2017, the AAM tracking feature will be removed from BLOX Live e-Editions. If you wish to continue using AAM tracking, please migrate to the BLOX Subscription Pro implementation before 2/28/2017.
Because we hold AAM log data for a rolling 12-month period, your logs will still be available when you transition to the BLOX Subscription Pro AAM tracking feature.
If you have any questions about this change, please contact TownNews.com customer support at (800) 293-9576 or http://www.TownNews.com/support.
This is a major new BLOX Core release, which adds new functionality to the BLOX SmartTagging tool - it will now extract general topics from an article (such as politics) and add them as keywords to improve semantic meaning. In addition, there are several other behind-the-scenes improvements to prepare for future functionality, and bug fixes.
FEATURES
In this release we are adding new functionality to BLOX SmartTagging, which is a tool to help resource-strapped newsrooms bring more value and semantic meaning to their content. It is available for free to TownNews.com partners participating in both our Townews.com Content Exchange and iQ programs.
With BLOX SmartTagging enabled, the BLOX CMS system will analyze an article's content when it is saved and automatically add the most relevant keywords. This brings immense value to media organizations participating in the Content Exchange and TownNews.com iQ programs:
BLOX SmartTagging will auto-discover relevant section categories, and will automatically add them to the story with a specialized "townnews" namespace (so there will be no unintended conflicts with existing customer sections). This creates additional semantic value for an article and helps it get found and easily categorized within the TownNews.com Content Exchange.
For TownNews.com iQ participants, these auto-discovered sections will help better classify content into useful buckets, which can be tied to user behaviors in the iQ data management platform (DMP). For example, a section name of "Clasped Hands" will be unlikely to provide any semantic value to the iQ DMP. However, after analyzing the article's content, the BLOX SmartTagging tool may add a new "townnews"-namespaced section of "religion." These new categories are passed to the TownNews.com iQ system and can be turned into behaviors which can be used to better target ads and increase programmatic ad revenue.
In addition, BLOX SmartTagging will automatically add relevant keywords discovered by the analysis process. These keywords, as well as manually-added keywords, are used to provide additional content relevance in both TownNews.com Content Exchange and TownNews.com iQ. Sites are allowed to set the threshold for when keywords are added to articles. In this release, we are now adding the auto-discovered sections to the keywords area as well.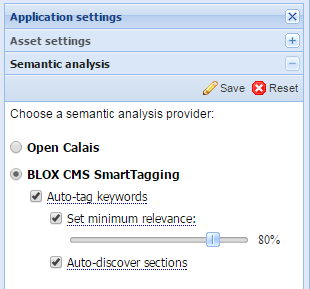 (TNCMS-5134)
---
Redirect URLs will no longer remember blocks that were previously associated to them, in order to prevent those "ghost" blocks from migrating during a URL map migration/redesign process. This blocks on a URL that's a child of a redirect will no longer inherit down to the child. (TNCMS-4960)
CHANGES
Video assets are now locked during the conversion process to prevent situations that cause the asset to break and become unusable. The video will be unlocked and available for edit as soon as the conversion process is completed. (TNCMS-3529)
Improved BLOX analytics system API which will be utilized in future projects. (TNCMS-4482)
An issue with the mechanism that removes "purged" assets has now been improved to better handle sites with lots of data. (TNCMS-4949)
Front-end search cache has been lowered from 10-15 minutes to 5 minutes. This may improve the responsiveness of RSS and other "feed" type search results pages. (TNCMS-4969)
The setting "do not free up slot on logout" in the user authentication settings panel has been removed as it is no longer needed. (TNCMS-5124)
YouTube assets flagged as unembeddable by their original owners will now present the user with an error message that says, "The content owner has disabled embedding of this video." (TNCMS-5129)
To improve performance of user account search in the BLOX admin on some sites, we've changed the interface slightly. As a result, the panel will no longer provide the ability to jump to the end of the search result set, but will now function properly for sites with large user databases. (TNCMS-5173)
The new "Domains" tool in the site settings menu allows sites to create vanity domains for their website, which serve as an alternative domain name and may be displayed to the end user. Alternative vanity domains must first be set up with our system staff, so please submit a ticket for our Customer Support team and provide the domain name to get the process started. (TNCMS-5069)
In some edge cases, sites had section paths so long that a block query rule could not be created for them. The query rule values have now been lengthened to better account for this. (TNCMS-552513)
The new "Domains" tool in the site settings will provide infrastructure support for a future version of Business Directory. (TNCMS-5069)
BUG FIXES
The news sitemap facilitates Google News sources primarily. As a result, any asset with a canonical URL that does not reference the site itself should not be included to prevent issues with Google News picking up a non-local story. (TNCMS-5093)
Assets with 'external_id' will now properly update when a SaveAsset is called as part of a webservice. (TNCMS-5094)
Fixed a potential edge case that prevented some items from properly syndicating. (TNCMS-5097)
The Minimum relevance slider control under SmartTagging in editorial semantic analysis settings does not always properly reflect the stored value. This has now been fixed. (TNCMS-5112)
The 100-pixel preview automatically created from an article's teaser image on the appliance is being deleted when the article is saved again later. This has now been fixed. (TNCMS-5113)
Teaser images will now syndicate properly as teasers and not children. (TNCMS-5118)
"Restoring" a deleted asset will now function properly, even if it has asset relationships (such as children). (TNCMS-5122)
Bots are now blocked from accessing the user dashboard. They will now receive a 429 rate limiting error. (TNCMS-5123)
Setting a value of numeric zero to a block customization field no longer results in it displaying as blank when the customization panel is later reopened. (TNCMS-5165)
Resolved an issue where an admin account with missing authentication was unable to be downgraded. (TNCMS-5166)
Site admins can now restore a deleted account unless there is a live account with the same e-mail address. (TNCMS-5170)
Fixed an issue where front-end saved searches will cause an error. (TNCMS-5174)
In this release we are making infrastructure changes that should not be noticeable to admin or front-end users. If you experience any issues or have any questions, please contact customer support at (800) 293-9576 or TownNews.com/support.
This release includes a few bug fixes as well as a change for the Business Summary Report stats.
CHANGES
Business Summary Report stats will only be tracked for business listings with a priority greater than zero. This should significantly reduce the amount of time it takes to roll data up each morning.
BUG FIXES
We fixed an issue where special characters in category names were applying unnecessary spaces, such as "Women S Clothing" instead of "Women's Clothing." (BIZDIR-550)
We've fixed an issue where Mastercard was not saving as an available payment type. (BIZDIR-557)
We've fixed an issue where opening businesses with missing or invalid categories would throw an error. (BIZDIR-559)
We've fixed an issue where attempting to edit a business from within another application such as calendar or editorial would cause an error. (BIZDIR-570)
In this major Flex Templates release, we are making some behind-the-scenes changes to help future projects. We are also fixing several bugs.
CHANGES
The Mosaic block is using lazy sizes to grab an image that is the same size as or slightly larger than its container, however the styling zooms the image in blurring the image. We will now choose a slightly larger image size that needed to prevent blurriness. (FLEXBLOX-2224)
Dropdown lists for Dealers on the Classifieds: Featured Search block will now display businesses in alphabetical order. (FLEXBLOX-2532)
The pagination functionality now works with subscription and metering. If a user is not logged in, they will not be able to view the entire article or click to other "pages." Also, one story equals on metered count as far as metered subscription is concerned. (FLEXBLOX-2747)
We are changing the order of the subscription paywall options in the URL map properties to make more sense to site admins. (FLEXBLOX-3052)
The CSS call for fonts on the "boxy" theme will now be combined into one call, making it more efficient. (FLEXBLOX-3105)
We are expanding the logic which prevents duplicate displays of the word "by" on Facebook news feed. We will now detect for lowercase and uppercase "by" in the byline and prevent it from being duplicated. (FLEXBLOX-3128)
The "Utility: Page heading" block will now display the primary category on Classified asset details pages. (FLEXBLOX-3136)
BUG FIXES
On article pages with locations, the pin was incorrectly showing the URL for the map pin image. This has now been corrected. (FLEXBLOX-2658)
When using the Card: Grid block to pull in Calendar events, the "Show date" option showed the date the event was created/published, not the date of the event itself. This block will now show the schedule for events. (FLEXBLOX-3083)
Chrome and IE will now be able to properly print vertical mugshot images. (FLEXBLOX-3103)
We've fixed an issue where Business Directory listings containing zip codes starting with a "0" or non-numeric characters wouldn't display to end-users. (FLEXBLOX-3115)
The table content in the table asset block will now word warp in the mobile view port. (FLEXBLOX-3119)
In some edge cases, the choice to not show social sharing icons still allowed the icons to show. This has now been resolved. (FLEXBLOX-3135)
The value of the start date field will now default to the current day when the d and d1 request parameters are null. (FLEXBLOX-3152)
Popup image ads using Ad Manager will now be more responsive to mobile devices and will resize to 85% of the viewport. (FLEXBLOX-3157)
The URL property "Main navigation position" when set to "Fixed on scroll" will now always be fixed to the top of the page, even on iOS devices. (FLEXBLOX-3169)
This is a minor bug fix release of Zen templates. In it, we are fixing an issue with RSS feed descriptions, and an uncleared float within the "Asset Index: Lead Presentation" block.
BUG FIXES
On the "Asset Index: Lead Presentation" block, the secondary block assets will now display correctly when the block has related assets. (ZENBLOX-7701)
The description fields in RSS feeds were not working properly. This has now been fixed. (ZENBLOX-7705)